Back in 2012 as I've launched startupolic.com, I remember that almost nobody was blogging on the Swiss startup scene. Or most were abandoning the effort after a few posts. Fortunately, this has changed!
Today I'm pleased to publish a guest post by Tatjana de Kerros-Budkov, who is currently the Startup Builder at Ricolab Innovation Lab (Ricola), Mentor, and 2x entrepreneur- with one exit under her belt- and has helped startups raise over $10M in the last 12 months. Previously, she was an entrepreneurship & innovation Advisor to the Saudi government, collaborated with 500 Startups KSA and roamed the Arabian desert building entrepreneurship & VC tech ecosystems.
Now living in Zurich- she's passionate about showcasing Swiss tech startups- bridging ties with international VCs.
This post was initially published here.
---
Altogether, they've raised over $1.4 billion since 2015. They're growing at an average rate of 21% and employ over 1,900 people. These are Switzerland's best funded startups.
From Geneva, through to Zurich, I've mapped out the 50 of the best funded tech startups across major Swiss cities since 2015. The analysis shows not only which cities have transformed into startup tech hubs and attract the largest VC tickets, but also demonstrates the continued disparities between German and French speaking Switzerland in terms of funding and deal size.
In the midst of a 'digital revolution'- insights into Switzerland's most funded startups shows which sectors attract the largest investments, but also which technologies are starting to gain momentum and investor interest. Finally, as the map covers startups that have had their last funding round in the last 24 months- I have analyzed which rounds are most prevalent across regions, and their average value- giving a glimpse towards the direction in which VC, PE and CV is moving in our small innovation nation.
The investment volume among Switzerland's 50 best funded startups ranges from $233M on the high-end of the funding spectrum for pharmaceuticals startup Novimmune to $2.4M for another pharmaceutical outlier, Memo Therapeutics.
The average amount of funding received among all the mapped-out startups is $28M, with the most prevalent round being series A– making up 38% of all rounds (or 19 rounds in total).
The most prevalent ticket-sizes range from $2M-$5M, and $10.1M- $25M among these startups across Switzerland. What does this tell us?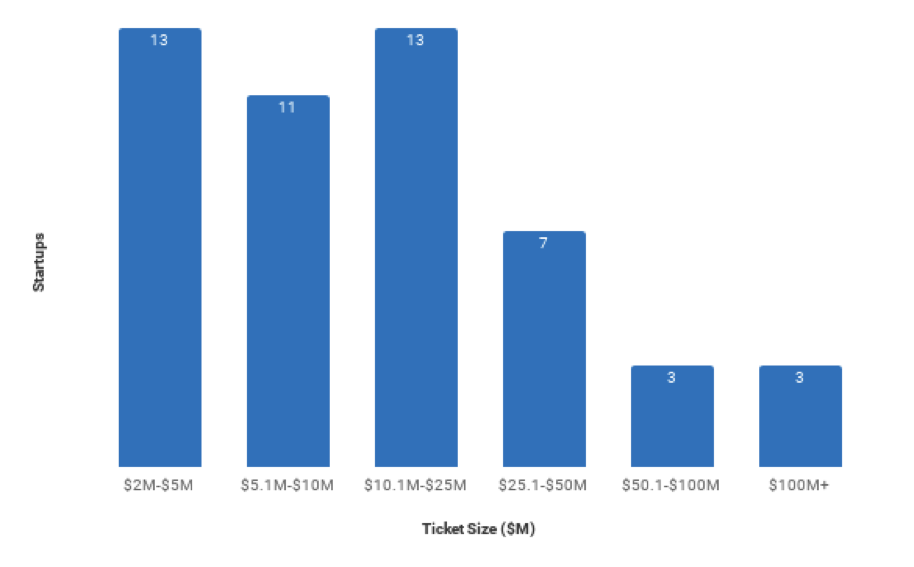 Firstly, it is important to note that this data will not, by default, include very early-stage seed investments. What the data does conclude however,is that if a Swiss startup that raises $2.5M makes it on the map- the Swiss ticket size of a round is generally quite low in comparison to other countries. Moreover, there are only 6 startups since 2015 that have raised more than $50M- showing a clear dearth in late-stage funding, and putting in question the exit vehicles for investors across the investment lifecycle.
So what is the average value of each round in Switzerland?
The average seed round raised by a Swiss startup is valued at $3.7M, rising by a mere million to $4.7M for a Series A. This jumps to $27.5M for a Series C, and then drops by a considerable $5M for late-stage capital- averaging $22.5M.
Did you notice a gap in the data?
Indeed- Series B are non-existent. Funding rounds just jump from A to C. Either Swiss startups are wizards at increasing their valuation overnight, or, which seems most likely- there is a gap in the market for follow-on funding- (which I'm personally placing my bets on).
From my knowledge of the Swiss VC ecosystem, the latter option seems to fit right in with current funding patterns. Investors tend to cluster in either the pre-seed and seed rounds, or later-stage funding- which at this stage becomes increasingly concentrated with corporate venturing funds.
Given the current relatively low volume of deal-flow in Switzerland, investors compete on each extreme of the funding spectrum. In the middle, not so much- and investments are riskier. However, this can also translate into a low survival rate for early-stage startups, making the trend of multiple rounds of early-stage capital obsolete and unnecessary in the current market. Either the startups perform sufficiently well to attract much larger players (and be acquired), or they die.
Which industries are Switzerland's tech outliers disrupting?
Of course it comes as no surprise.
Among Switzerland's 50 best-funded startups, 17 are pharmaceuticals and biotech companies (equivalent to 34%). This translates both in terms of the number of investments, as well as the overall dollar-volume- which stands just short of $1 billion ($989.2M to be precise).
But there are some surprises. Agtech startups have definitely been catching investors interest- accounting for 4 startups in our map (the second most popular sector after pharmaceuticals). This includes startups such as EPFL spin-out Gamaya ($3.2M raised) and Zurich-based aquaponics startup Urban Farmer ($5.3M raised). Although agtech startups included in this map have only raised together a total of $16.5M- I have no doubt this is set to increase.
Whilst only 3 cyber-security startups make our map-together – they raised over $90.3M, putting them in second place in terms of dollar volume behind pharmaceuticals startups.
In light of Switzerland's thriving banking and financial industry, it comes as no surprise that 3 fintech startups make it into the map- raising $68.4M between them – of which $50M (disclosed) was raised by late-stage startup Centralway from the Investment Corporation of Dubai. Fintech is followed closely behind by SaaS startups- who make up $68.4M of investments.
Insurtech, represented by Stonestep, a 'microinsurance-as-a-service' startup raised $4M – the only insurtech startup on this map- but a sign that investors may soon want to start betting big in this segment. A similar heat warning can be linked to Scandit – the only marketingtech startup who makes this list- but raised $7.5M.
So which city wins the war for Switzerland's best startups?
As small as Switzerland is- it is a country divided by language and culture- and as art imitates life, each region vies to attract the best startups, and become the country's leading tech hub.
It must be Zurich right?
By the number of Zurich-based startups included in our map, yes, Zurich wins, accounting for 17 out of 50 startups – or 34% of Switzerland's top 50 best-funded startups. Molecular Partners makes it top of the list, having raised a $16.6M Series C with a total investment of $76.6M- followed by Sequana Medical (another Series C pharmaceutical startup that raised $60.4M in total), and of course, fintech outlier Centralway.
Zurich is clearly strengthening it's grip as the tech capital of Switzerland, and attracting a new breed of startups from IoT through to cleantech.
But Lausanne wins as the city to raise the largest amount of capital.
The Olympic city (in which I grew up in) and home to the world-reknowned EPFL campus comes out top in our map- with 13 startups raising $451.8M between them. In comparison, whilst Zurich startups are better represented, the city's startups raised only $312.4M in comparison.
Geneva comes third- both in terms of startups represented, as well as investment volume ($288M) – followed by Basel, who saw 5 startups make the rank with a total of $67.2M invested.
Which leads us to question- in which city are you most likely to raise the highest round?
If you're raising a seed round, you should head to Lausanne, who tops our map with the most seed capital at an average of $10.2M raised, closely followed by St Gallen with $9M.
Series A continues to be firmly dominated by the French-speaking side of Switzerland, with the highest average value of a round to be found again in Lausanne ($11.8M) followed closely by Geneva ($11.3M). Zurich ranks third with an average Series A round raising valued at $9.2M.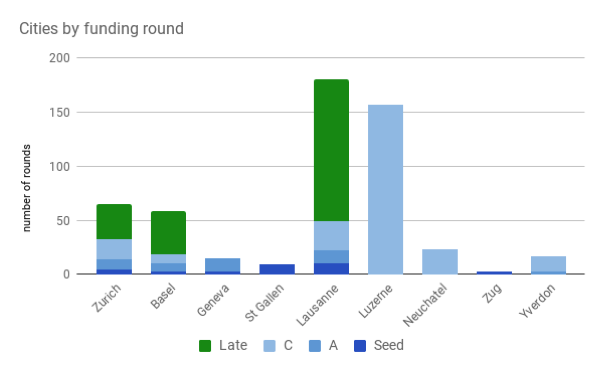 For a Series C, discrepancies between the French and Swiss-Germans remain, with Lausanne topping the map once again at $27.4M, followed by Neuchatel with $23.2M, and then Zurich at $17.8M. It is worthwhile to note however, that Luzerne-based Series C startup CeQur raised a $156.6 mega-round, that would slightly skew the data if included.
And who wins the highest late-stage funding average? Lausanne once again, at $130.5M – followed unsurprisingly by Basel – the global pharmaceuticals hub who saw its best funded late-stage startups raise an average of $39.8M – followed closely by Zurich at $32.6M. These were the only three cities nationally which have seen any late-stage investments since 2015.
What does this map tell us about the future of startup funding in Switzerland?
Unfortunately, and as I previously noted – it highlights continued discrepancies between regions – both in terms of the quality of startups created (in investors eyes) – as well as investor risk-aversion and access to capital. Most startups flock to Switzerland's most reputed tech hubs in Lausanne and Zurich, or continue to concentrate in areas dominated by the pharmaceuticals industry (Basel). Whilst this shows that local ecosystems are strong, it also highlights that the spillover effect of access to risk capital and innovation will remain regionally constrained- at the detriment of the economic growth and diversification of other cities across Switzerland.
As I also previously highlighted, investors cluster in either seed and very early-stage rounds, or late-stage funding. There is a 'missing middle' for risk capital in the VC and corporate venturing industry. Which leads us to question if this may not be the cause for a number of startup deaths in Switzerland, and their failure to scale.
Finally, it is notable to underline that many of the late-stage startups included in this map raised a down-round in their subsequent funding rounds. Whilst I didn't include this in the data (and this is definitely worth further investigation), this could by symbiotic with a nascent, and risk-adverse investor sentiment- but also the financial performance of startups (for example their difficulties to expand outside the immediate Swiss market), and an exit-market that focuses on acquisitions rather than inflated valuations.
To round-up, if you're in pharmaceuticals, cybersecurity, fintech and digital services – startups will increasingly find investor appetite to raise capital – and contribute to Switzerland's transformation into a digital economy.
Oh, and for you who are interested – here is the full table of the 50 best-funded startups in our alpine nation.
View the detailed list of the 50 best-funded Swiss startups
You can also find the complete list of the 50 startups hereafter.
| | | |
| --- | --- | --- |
| Startup | Description | Total funding (MCHF) |
| NovImmune | NovImmmune develops therapeutic monoclonal antibodies to treat patients suffering from immune-related disorders. | 233 |
| ADC Therapeutics | ADC Therapeutics Secures $80m Financing to Progress its Pipeline of Antibody Drug Conjugate Therapeutics in Oncology | 222.5 |
| CeQur | CeQur is developing and commercializing advanced yet simple-to-use insulin delivery devices that make it easier for people living with type 2 diabetes to adhere to therapy and stay in control of their disease. The Company's fully optimized device, PaQ, is a three-day, wearable device that provides freedom from multiple daily insulin injections. | 156.6 |
| Molecular Partners | Molecular Partners is developing an investigational drug for the treatment of retinal diseases such as wet AMD, a leading cause of blindness in the western world | 76.4 |
| NEXThink | Nexthink is the innovator of Endpoint and User IT Analytics for security, ITSM and transformation. Their software provides enterprise-wide real time analytics covering all endpoints, users, applications and network connections. | 66.7 |
| Sequana Medical | Sequana Medical is a Swiss medical device company providing implantable pump systems to manage fluid balance within the body. | 60.4 |
| Centralway | Centralway is a Swiss company builder. Centralway operated Numbrs, a mobile-first banking app, which enables users to intelligently track and predict spending. | 50 |
| SonarSource | SonarSource provides applications and services for continuous inspection of code quality | 45 |
| Polyphor | Polyphor is a Swiss Pharma company focusing on the discovery and development of macrocycle drugs addressing high unmet medical needs. | 39.8 |
| Spineart | Spineart is a privately held medical device company focused on simplifying the surgical act by designing, developing and promoting safe and efficient solutions to spine surgeons, operating room teams, and patients. | 33.5 |
| Sophia Genetics | Sophia Genetics is a data-driven medicine company whose genetic analysis platform has been used by hundred of European hospitals to support the diagnosis of cancer patients. | 31.8 |
| Asceneuron | Asceneuron develops effective therapeutics for orphan tauopathies and Alzheimer's disease. | 30.6 |
| G-Therapeutics | G-Therapeutics is developing an implantable spinal stimulation system and robot-assisted training to rehabilitate spinal-cord-injured individuals. | 29.6 |
| HYT Watches | Discover HYT, the Swiss luxury watch brand revolutionising the haute horlogerie industry with a unique fluidic technology. Visit the official HYT website. | 23.2 |
| Aleva Neurotherapeutics | Aleva Neurotherapeutics has developed proprietary neurostimulation technologies that enable significantly better therapies for neurological diseases. | 22 |
| Kuros Biosurgery | Kuros Biosurgery develops biomaterials and bioactive biomaterial combination products for indications in trauma, wound and spine. | 20.4 |
| Solar Impulse | Solar Impulse is a Swiss long-range experimental solar-powered aircraft project. The aircraft are single-seat monoplanes powered by photovoltaic cells and capable of taking off under their own power. | 20 |
| Kandou Bus | Kandou Bus is an innovative semiconductor technology company specializing in the the invention, design, license and implementation of high performance, energy efficient chip-to-chip links. | 15 |
| NetGuardians | NetGuardians is a leading software company recognized for its revolutionary solutions to control all your operational risks. | 14 |
| Nouscom | Nouscom is a biotechnology company that will develop tumor specific oncolytic viruses and patient specific cancer vaccines. | 13.6 |
| Advanon | Finance your invoices instantly with Advanon, the easiest and most flexible solution for improving your liquidity. | 13.4 |
| Arktis Radiation Detectors | Arktis Radiation Detectors has developed a platform technology for detecting ionizing radiation using compressed noble gas. | 12.9 |
| Ava | Ava designed the world's first smart bracelet to help track ovulation, fertile days and sleep patterns. | 12.3 |
| QGel | A Lausanne, Switzerland-based biomaterials company . | 12 |
| Flisom | Flisom is assembling a roll-to-roll production line to manufacture flexible solar modules | 10.8 |
| Biovotion | Biovotion provides integrated solutions with connected hardware and value-added monitoring services. | 10.4 |
| ID Quantique | ID Quantique is the world leader in quantum-safe crypto and leverages quantum technology in the fields of random numbers and scientific instrumentation. | 9.6 |
| Demiurge Technologies | Demiurge Technologies develops the next generation of neural networks and neuromorphic chips from a rebuilt foundation of mathematics, physics and computer science. | 9.5 |
| Hulbee | Hulbee AG is a software technology company delivering search, eCommerce, SaaS, cloud computing and business intelligence solutions. | 9 |
| Advanced Osteotomy Tools (AOT) | AOT is a research company, pioneerinf the field of robotic bone surgery with the use of cold laser photoablation. | 8.3 |
| ProteoMediX | ProteoMediX is a spinoff company of ETH Zurich and specialized in the identification of novel biomarkers for the early detection of cancer | 8.1 |
| Cellestia Biotech | Swiss drug development company with focus on first-in-class targeted therapies | 8 |
| Skioo | Skioo is a ski pass ticketing platform, which is integrated with the online reservation systems of numerous resorts. The company aims to make the ski industry more attractive and accessible by improving relations between skiers and ski resorts. | 7.7 |
| Scandit | Scandit offers a leading barcode scanner SDK for iOS and Android developers. Quickly and easily integrate our barcode scanner SDK by getting started today! | 7.5 |
| Flyability | Flyability developed Gimball – the world's first collision-proof flying robot, which opens new applications in inspection, rescue and security. | 6.8 |
| BestMile | Fleet management software for driverless vehicles | 5.5 |
| UrbanFarmers | UrbanFarmers designs and operates Aquaponic rooftop farms for commercial growers and food retailers. | 5.3 |
| QualySense | QualySense uses pace technologies that combine Machine Vision and Near-Infrared spectroscopy to develop the QSorter, the first artificial intelligence robot for high-speed single kernel analysis and sorting of grains. | 5 |
| Qumram Holdings | Qumram enables financial institutions to record their client's online sessions to gather information for compliance, and to collect usage data to enhance the user experience. | 5 |
| Stonestep | It is a next generation insurance platform offers integrated sales and customer experience tools | 4 |
| Goodwall | Goodwall is a place where young people create Good CVs to showcase the good they do to get into university or get a job. | 3.3 |
| Gamaya | Gamaya is a Swiss startup active in a smart farming, responds to the need to feed 10bn people by developing unique farmland diagnostics services for industrial growers in Brazil using patented breakthrough imaging technology to capture all necessary information about physiology and chemical composition of crops in a most efficient way. | 3.2 |
| Amal Therapeutics | Research and Development Cancer Vaccine | 3.1 |
| Polyneuron | Polyneuron is an early stage Swiss pharmaceutical company that is committed to the development of a new drug class for the treatment of autoimmune disorders. | 3.1 |
| Hosco | Hosco is a job site that provides premium connections, career advice and industry insights. | 3 |
| pCloud | pCloud is your personal online storage space for your memorable photos and videos, your favorite music or important work documents | 3 |
| Biognosys | Biognosys was founded in 2008 and is a privately held company in Zurich, Switzerland. | 3 |
| ecoRobotix | Discover our autonomous robot with precise herbicide application. | 3 |
| DBS System | Hemaxis is a medical device technology platform for micro blood sampling with passive plasma separation and accurate volume control | 2.5 |
| Memo Therapeutics | Memo Therapeutics AG develops and applies innovative antibody technologies that are based on its novel, disruptive technology for the display of complete antibodyomes, MemoMAB. | 2.4 |