They are  20. They are entrepreneurs. They are building and growing their startup from Switzerland. They are the Venture Leaders 2015!
Each year since 2004, venturelab is organizing a 10-days business development trip in Boston (and New York since 2014) for 20 selected entrepreneurs. I've been following the different Swiss Startup National Teams since 2008 and I even had the chance to be a Venture Leader in 2014 (read my report here). These 20 entrepreneurs will have an intensive training at Babson College, as well as meetings with US investors and potential partners. They will get a sense of the US mentality (which is, trust me, really different from the typical Swiss one) and have the opportunity to network at scale!
This year, 2 women made it in the team (last year, we only had one unique female entrepreneur, Bori). I already hear a lot of complaints coming to this fact (I got many excessive feministic blames for Startup Weekend Biel/Bienne, as I had no female jury member – the one, big name I've asked, wasn't available), as there are too few female entrepreneurs in the team. Unfortunately, you cannot expect to have an equal gender distribution in the team. Not that men are more capable. Or better. Not at all. Just because the reality is that you have probably only 10-15% of female tech startup entrepreneurs in Switzerland. And IMHO, selecting women just because they are women wouldn't be correct and helping them, too. Hope it may change in the future, but I'm confident of it, given the many women entrepreneurs clubs and initiatives (Girls in Tech, Railsgirls, etc.) popping up across Switzerland.
But back to the facts. 20 entrepreneurs. 5 in the biotech field. 5 in ICT (or Computer Sciences, to take the American word). 4 in Medtech. 4 in Electronics/Robotics/Microtechnics and 2 in Engineering.
This year, 12 entrepreneurs come from Zürich (which is confirming it's #1 place for tech startups in German-speaking Switzerland) and 4 from Lausanne (which is the #1 startup hub in Western Switzerland). But the office/lab location of any of those startups doesn't really matter, except for politicians. Because Switzerland is one single tech hub (in international comparison)!
Here are the 20 entrepreneurs of the Swiss Startup National team 2015, that you will be able to meet on April 22nd in Lausanne (as well as listening to Nicolas Abelé, which successfully just sold Lemoptix to Intel)!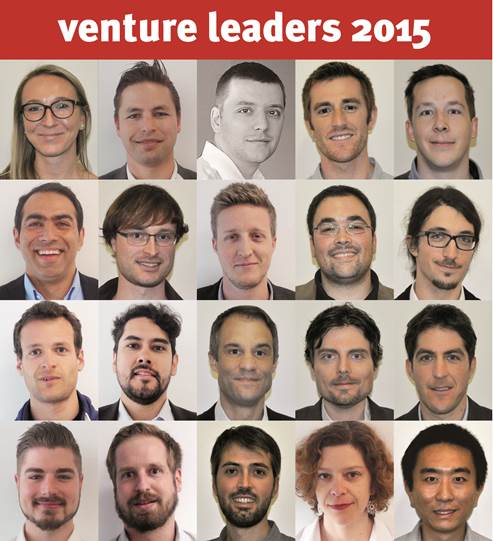 BIOTECH
Ruben Herrendorff
Polyneuron Pharmaceuticals AG
Basel
Polyneuron Pharmaceuticals develops a promising class of drugs for the treatment of autoimmune diseases affecting the nervous system. Their Antibody-Catch® platform and their first drug candidate pave the way for a new treatment paradigm for antibody-mediated autoimmune diseases.
Miguel Barreto-Sanz
SimplicityBio
Monthey
SimplicityBio helps diagnostic companies minimize risks in the development of diagnostic tests. It also helps pharmaceutical companies design clinical trials by improving patient stratification, enabling discovery of the best responder population.
Alicia Hegglin
BioRevels AG
Zürich
BioRevels develops a solution for cheaper diagnostic tests. Thanks to its novel one-time use consumable and the 3 dimensional test procedure, current tests can be performed up to six times faster and with ten times less reagents.
Chris Millan
CellSpring
Zürich
CellSpring brings fundamental improvements to cell-based in vitro studies. Its core technology, the "3D Bloom platform", enables the creation of biomimetic micro tissues in a matter of minutes.
Hans-Anton Keserue
rqmicro LLC
Zürich
rqmicro develops a novel system for the rapid detection of water and food pathogens, consisting of analytical instrumentation and consumable kits that enable the quantification of dangerous microorganisms in less than an hour.
ENGINEERING
Patrick Galliker
Scrona AG
Zürich
Scrona develops print heads based on its proprietary "NanoDrip" printing, a groundbreaking ink-jet technology that achieves a printing resolution up to 1000fold finer than the width of a human hair. In combination with commercially available nano printing inks, the system enables complex products, such as displays and touchscreens, to be simply printed in a cost-efficient and flexible manner.
Pius Kobler
milKit Sport Components AG
Zürich
milKit is a novel system that allows to measure and refill sealant in tubeless bicycle tires without having to release the air pressure. milKit Sport Components AG provides an easy solution for a flat-free ride.

ICT (Internet, FinTech, Robotics, Electronics)

Betim Shkodra
homePad Solutions SA
Fribourg
homePad develops the first simple and intuitive paperless solution for real estate managers. The digital application allows generating different type of secured reports (i.e. property inspection, house or building reports).
Deepak Tewari
Privately Sàrl
Lausanne
Privately's "right-to-be-forgotten" solutions keep user's content private, secure and removable on social networks. Combining end-user encryption applications (B2C), API and a service-provider platform (B2B), Privately provides an end-to-end solution for protecting users' private content shared digitally.
Dennis Just
Knip AG
Zürich
Knip is the digital insurance navigator that simplifies its users' life. They can see all their insurance policies at a glance. The application eliminates the insurance hassle for individuals, i.e. by handling all insurances in one application or by providing a detailed description of insurance policies, one-by-one.
Flurin Müller
BuddyBroker AG
Zürich
BuddyBroker crafts innovative and intuitive online recruiting products such as Eqipia, an automated and intelligent employee referral tool. The solution allows companies to leverage their employees' networks in order to find and approach potential applicants.
Sandro Kunz
Pingen GmbH
Zürich
Pingen is a solution to transform an electronic document into a physical letter and have it delivered via the Post automatically and in the most efficient way.
MEDTECH
Miroslav Caban
Spinal Dynamics
Lausanne
A medical software providing diagnostic and surgical guidance for patient-specific spinal cord stimulation therapies.
Pascal Koenig
Ava AG
Zürich
Ava develops a wearable medical device based on a patented multi-sensor technology, which monitors the menstrual cycle of women in order to precisely indicate fertile days and facilitate family planning. Compared with other methods and tools in the market, Ava's solution is more convenient and precise.
Simone Bottan
Hylomorph AG
Zürich
Hylomorph has developed cellulose layers that allow surgeons to minimize foreign body reaction and fibrosis upon operation, thus reducing patient's pain and revision surgery rates.
Xiang Li
ZuriMED Technologies
Zürich
ZuriMED commercializes a revolutionary device for surgical knee ligament reconstruction, the "Bone-Tendon-Bone (BTB) Conversion-Kit™". The solution effectively converts a less painful hamstring autograft (a patient's own tissue), or any other flexible graft material, into a higher performance BTB-like graft.
MICROTECHNICS, ELECTRONICS, ROBOTICS
Veronica Savu
Morphotonix Sàrl
Lausanne
Morphotonix protects brands against counterfeits via integrating additive-free security elements directly in molded products.
Lucian Cucu
Rovenso
Lausanne
Rovenso develops agile, robotized vehicles for nuclear decommissioning and emergency situations.
Matthias Vanoni
BIOWATCH
Martigny
BIOWATCH develops a wearable biometric technology as an alternative solution to current authentication methods (PIN, passwords, cards, keys, fingerprint, face), based on vein recognition.
Christian Brändl
Insightness GmbH
Zürich
Insightness develops high-speed and low-power vision systems for mobile robotics and smart glasses. Their camera chips and software are suited for motion measurements, as well as mapping and obstacle avoidance.